Friends of Charlotte Plains
Over the years, we have had many patrons volunteer to assist us to make the Charlotte Plains experience even more attractive and enjoyable. We really appreciate their help and we call them our Friends of Charlotte Plains.
Our motto is "all work and no play, is forbidden."
We want you to feel satisfied in helping us while at the same time, enjoying all that Charlotte Plains has to offer.
We are currently looking for a number of dedicated Camp Hosts and would ideally be a rotating schedule of volunteers, until at least late October.

This position involves jobs such as:
Involvement with guests:
– Greeting and showing them ideal places to set up
– Checking booking and monitoring payment of fees
– Explaining any rules, directions, activities, and general helpfulness
– Promoting any other property activities such as tours and the sale of merchandise

Maintaining general tidiness:
– Ensuring that grounds, baths, and facilities are neat and tidy
– Toilets and showers are cleaned and re-stocked daily

Entertainment:
– Setting and lighting a communal campfire (only when required)
Other tasks may inevitably arise or become evident. However, overseeing the campground to ensure harmony, happiness and enjoyability for all, is our main priority.
Ideally, we are looking for patrons for 2 – 3 weeks but are flexible in terms of your availability. To allow for a stress-free handover, we would preferably like you to arrive slightly prior to the end of your predecessors time.
We will provide you with a detailed manual plus clothing, identifying you as a Camp Host. You will be entitled to stay at a campsite for the duration of your work period, to use and enjoy all relevant facilities free of charge. You will have continuous support from our Staff. We prefer Camp Hosts who are self-sufficient with their own caravan/camping equipment and can stay at the Bore Campsite (Unpowered). We can support you with generator power, if needed. However, we would also love to hear from anyone who may need a powered site.
Testimonial from a previous Camp Hosts: "Charlotte Plains had been on our list to visit as we travelled our lap. When they advertised for Camp Hosts we jumped at the opportunity. It's a beautiful property rich in history. As hosts, we checked guests in, entertained guests with happy hour fire, and kept the amenities clean. Not a huge task at all. We met some lovely people and really enjoyed our time there. Robyn (owner) was so easy to work with and we loved hearing her stories about the property." – Christine & Craig
If you are interested in becoming a "Friend of Charlotte Plains," as a Camp Host, please email us via stay@charlotteplains.com.au and let us know:

– A bit about yourself!
– Your available dates
We look forward to hearing from you!
---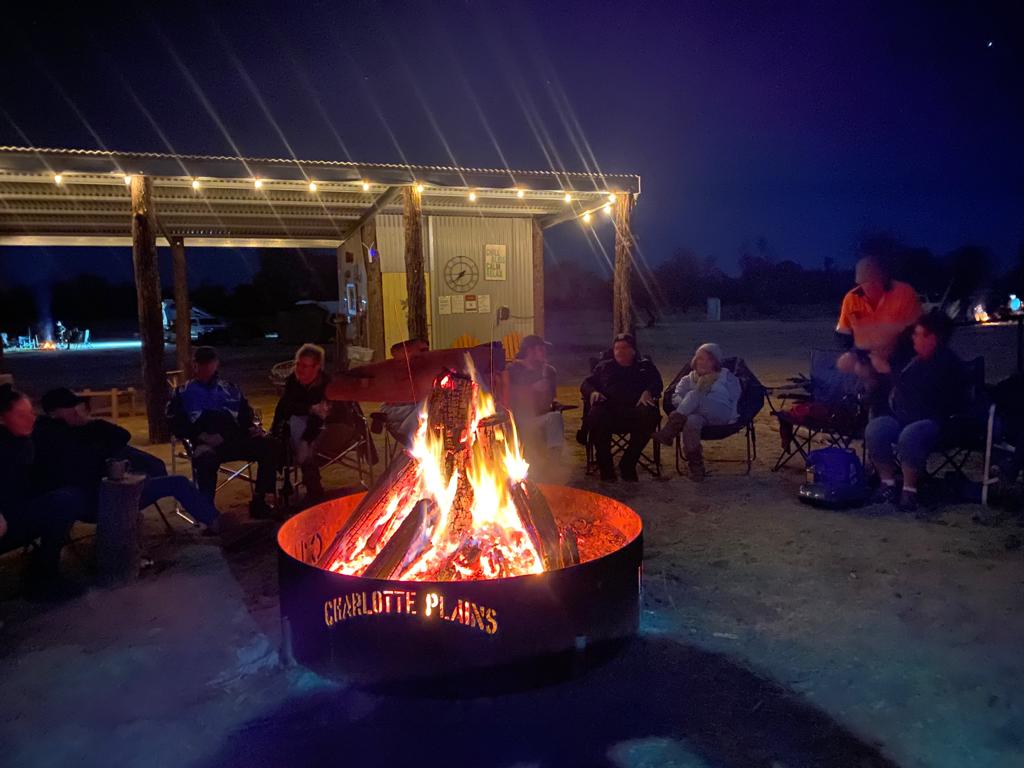 Furthermore, there are many other tasks which can be undertaken on an ad hoc basis consistent with the skills and abilities you bring to CP at times to suit your travel plans. This includes, but not limited to:

– Assistance with agricultural activities or stock work [carpentry, plumbing, roofing, electrical, tiling, painting, diesel mechanics, irrigation, landscaping, fencing, musical entertaining]

– Camp oven cooking
An extra helping hand is always helpful! Such help will be appreciated and will no doubt enhance your enjoyment of visiting Charlotte Plains.